Recreate Gustave Eiffel's outstanding engineering in this 1:638 scale model of the Eiffel Tower in Paris. Standing at 330 meters tall, it held the honor of being the world's tallest building for 41 years, from its completion in 1889 to 1930 when New York City's Chrysler Building dethroned it. Over the years, the Iron Lady, as affectionately called by French people, became not just a prominent feature of the Parisian skyline, but also a symbol of French culture.
To maintain its splendor and beauty, our artisans stayed true to the original design of this world-famous landmark by replicating its iconic lattice architecture as well as its 4-part structure. Even in terms of colors, this Roboitme-Rolife 3D wooden puzzle stays true to the original with a rusty wrought iron look. The four lighting modes, however, give it a dreamy and romantic ambiance that's befitting of the City of Love.
*Notes: Due to customs policy, the wax may not be included in the package. Wax: you could use ordinary candles, crayons, beeswax, etc.
Product Details
4 Lighting Modes

Including constant, flowing, breathing, and flashing—adjustable through a touch-sensitive switch for personalized illumination.

Interactive Paris Map

The Paris map at the base, along with the 3D word "Paris" design, adds more charm to the display.
Lighting modes instructions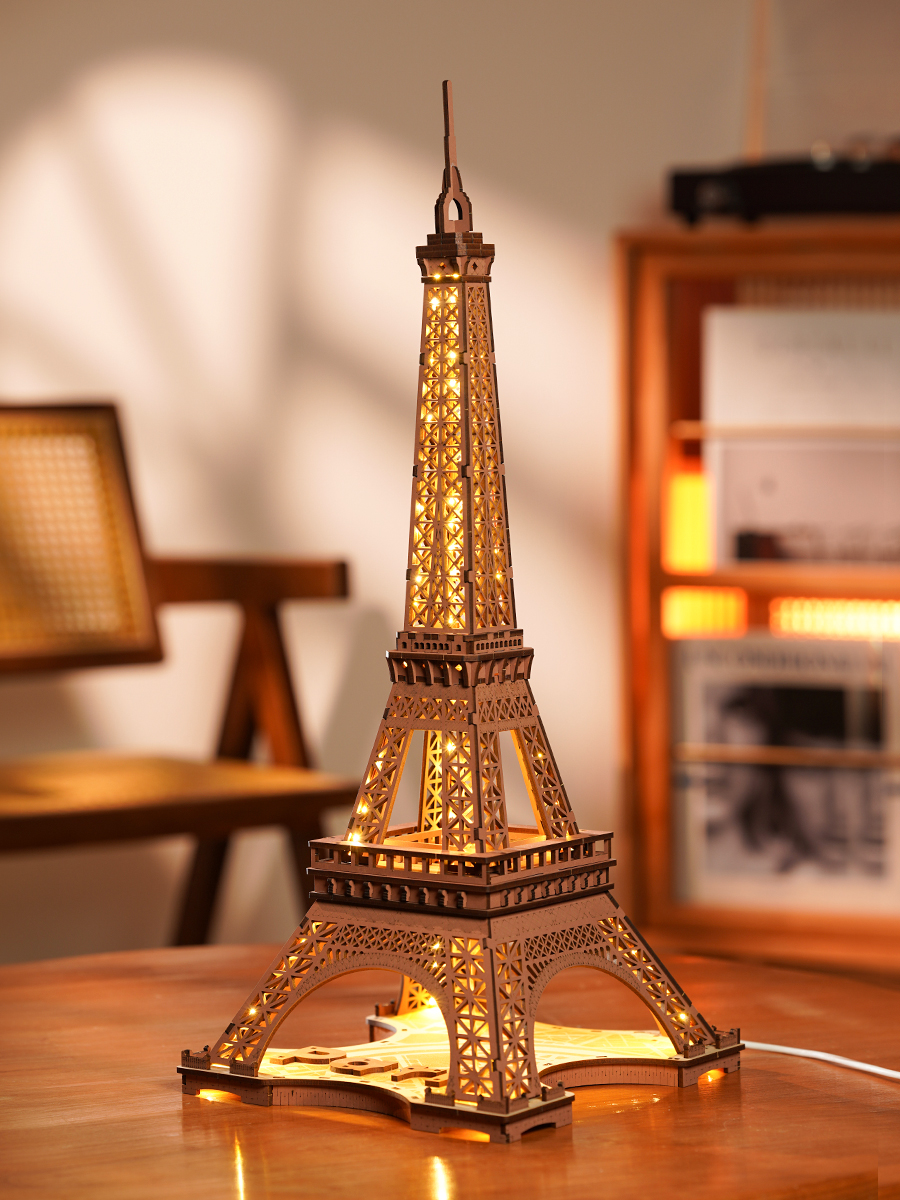 Lighting modes instructions
1. Insert the USB Type-C power cable, and touch the button to turn on the lights. Please self-prepare the Type-C power cable.(Input: 5V⎓500mA).
2. Within 5 seconds, consecutive touches on the switch can switch between different lighting modes (lighting sequence: constant light, flowing light, breathing light, flashing light).
3. After 5 seconds of illumination, touch the switch again to turn off the lights.
FAQs
How does the light of this model work?
The Night of the Eiffel Tower offers four light options: constant, flowing, breathing, and flashing.
No glue needed. It features interlocking joints for easy assembly.
It's powered through a Type-C connection (wire not included).
How do I switch between light modes?
Plug in the power. To switch modes, touch the switch continuously within 5s of turning on to cycle through modes. After 5s, another touch turns off the light.
Designer's Journey
In the romantic Paris night, the Eiffel Tower transforms into a magical storyteller. Its structure turns into a beautiful light show. This stunning display tells the stories of love, art, and dreams that people have shared under its enchanting presence for many years.
try {
$(function() {
var $iconTextColsSlick = $('[data-section-type="icon_text_cols"] .icon_text_cols-content');
var slickInitialized = false;
function slickInit() {
$iconTextColsSlick.slick({
dots: true,
arrows: false,
slidesToShow: 1,
slidesToScroll: 1,
autoplay: true,
autoplaySpeed: 7000,
adaptiveHeight: false,
appendDots: $('[data-section-type="icon_text_cols"] .navigation')
}).on('beforeChange', function() {
$iconTextColsSlick.find(".lazy-lazyload").removeClass("lazy-lazyload").addClass("lazyload");
});
slickInitialized = true;
}
function slickDestroy() {
if (slickInitialized) {
$iconTextColsSlick.slick('unslick');
slickInitialized = false;
}
}
function checkScreenWidth() {
if (window.innerWidth < 960) {
if (!slickInitialized) {
$.fn.slick && slickInit();
}
} else {
if (slickInitialized) {
slickDestroy();
}
}
}
checkScreenWidth();
$(window).on('resize', function() {
checkScreenWidth();
});
});
} catch (e) {console.log(e);}
$(function() {
var slider = $('.product_features-slide .product_features-images');
var tabs = $('.product_features-navigation .product_features-tab');
slider.slick({
dots: false,
prevArrow: false,
nextArrow: false,
fade: true,
autoplay: true,
autoplaySpeed: 5000,
adaptiveHeight: true,
onInit: function(slick) {
tabs.eq(0).addClass('active');
}
});
tabs.click(function() {
var targetIndex = $(this).data('slide-index');
slider.slick('slickGoTo', targetIndex);
});
slider.on('beforeChange', function(event, slick, currentSlide, nextSlide) {
tabs.removeClass('active');
tabs.eq(nextSlide).addClass('active');
});
});